HOW TO EARN YOUR EFORT ANNUAL CONGRESS HAMBURG 2024 CME CREDITS?
During the 3 days of the congress, you have scanned the scientific sessions you attended with your congress badge. We now kindly invite you to evaluate all the attended scientific sessions through either the EFORT App or the following website: https://otcommunity.m-anage.com/Login.aspx?event=efort2024
IMPORTANT: The evaluation process will be available until latest Saturday 31 August 2024 | 23:59 CET. After this date, certificates will remain available for download but no additional session evaluations are accepted.
Please use your EFORT Account credentials used for the online registration to login to EFORT Congress CME Certification platform.
Click in the tile named CME Evaluation and Certificate and confirm your contact details, you will then find all scientific sessions for which you have scanned your badge in front of the session rooms.
Click on EVALUATE and complete the corresponding survey for each session.
Once you have evaluated the sessions, the attended time will be accredited and your CME certificate will be available for download at the bottom of the page.
For any assistance, please get in contact with our support team: [email protected].
For your certificate of attendance, please kindly get in contact with the registration team through the following email address: [email protected].

CME ACCREDITATION AT THE EFORT ANNUAL CONGRESS HAMBURG 2024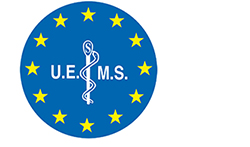 The 25th EFORT Congress 2024 in Hamburg, Germany, has been granted for a maximum of 17 European CME credits (ECMEC) by the European Accreditation Council for Continuing Medical Education (EACCME).
Each medical specialist should claim only those hours of credit that he/she actually spent in the educational activity. The EACCME credit system is based on 1 ECMEC per hour with a maximum of 6 ECMECs for a full-day event.
The EACCME® credit system for the 25th EFORT congress is based as following:
Wednesday 22 May 2024 > Max. of 5 credits
Thursday 23 May 2024 > Max. of 6 credits
Friday 24 May 2024 > Max. of 6 credits
The EACCME® awards ECMEC®s on the basis of 1 ECMEC for one hour of CME with a maximum of 6 ECMEC®s per day. Cf. Chapter X of UEMS 2016.20.
Regulations require scanning in and out of each session to collect the total amount of hours the medical specialist attended into the scientific programme as part of the educational activity of the congress.
Please note that: Industry-Sponsored Symposia Sessions, EFORT Marketplace Sessions and Free Paper Sessions are not subject to CME accreditation and therefore do not count in the total of hours spent in the educational activity.