Nested Applications
Sponsorship Brochure EFORT Congress Vienna 2021
The pandemic has taught us how to adapt and make our organisation agile. It is our first priority to preserve everyone's health and deliver Education & Training in a safe environment. Vaccines are on their way but we feel that June/July may be slightly too early to guarantee a risk free face-to-face experience for all.
Hence, the EFORT Board have once more made the difficult decision not to hold the EFORT Annual Congress in its original format this year. Nevertheless, the dates of the 22nd EFORT Annual Congress remain from 30 June to 02 July 2021 as per the official EFORT Statement.
We know that there will be a lot of questions arising from this decision and EFORT is eager to answer them fully as plans come to fruition. To this end we will work towards a detailed FAQ section, soon to be available on this website, and invite you to check back regularly.
In the meantime, the below document serves you as a reference to the type of educational solutions and collaboration within EFORT.
Please note that this document is currently being adapted, reviewed and updated to reflect the new format of the EFORT congress 2021. More detailed information will be posted here by no later than 12 March 2021. If you have any industry queries related to participation, including exhibition, satellite symposia, sponsorship bookings and invoices for the EFORT Annual Congress 2021 please contact: alan.cole@efort.org.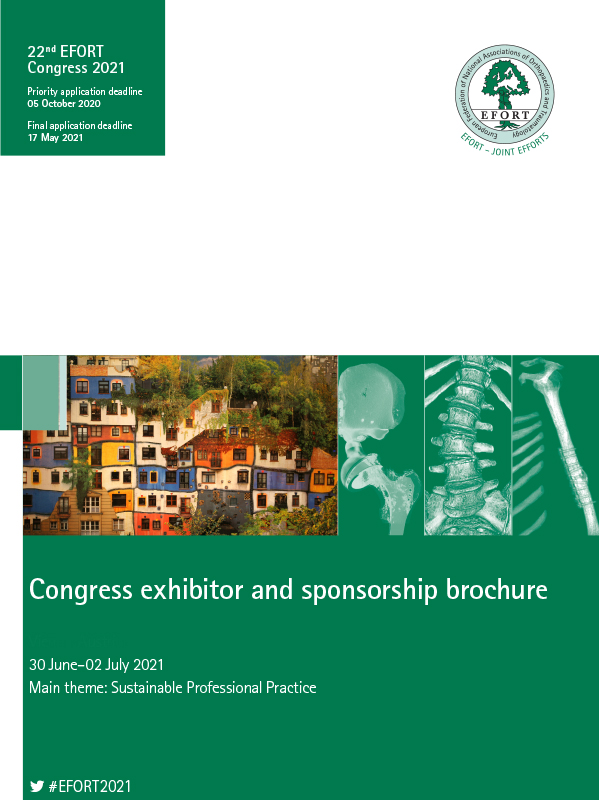 Sponsorship Brochure
22nd EFORT Congress 2021
PDF document | 28 pages | 12.8Mb
Industry site visit presentation Vienna 2020

This reference document/presentation provides an overview of EFORT, facts and figures of the 21st EFORT Congress Lisbon 2019 and an introduction to the originally planned 22nd EFORT Congress 2021 congress.
Password available upon request by email to alan.cole@efort.org