Nested Applications
Tabs for Tech Manual 2020
EFORT Congress PCO
The PCO (Professional Congress Organiser) is an independent partner that works behind the annual congress scenes to assist with logistics and technical expertise that they offer to a range of conference organisers – and in particular medical societies, so that organisations like EFORT may channel their expertise into unbiased educational science.
EFORT is pleased to announce that Congrex Switzerland is the official PCO of the 22nd EFORT Annual Congress 2021.
EFORT and Congrex Switzerland look forward to facing the new challenges of delivering the best design and formats of congresses and education for the future together as well as working with all our partners, members and collaborators to strengthen the impact and legacy arising from each EFORT annual congress, taking into account the COVID-19 pandemic situation.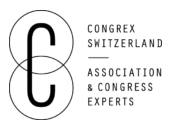 For more information about EFORT – please visit www.EFORT.org
For more information about Congrex Switzerland – please visit www.congrex.com
For more information on corporate participation and/or investment in the EFORT Annual Congress - please contact alan.cole@efort.org