Michael Freeman Honorary Lecture 2021
Michael Freeman Honorary Lecture
Friday 12 June 2020 | 12.15 – 12.45 | Room Vienna
Professor Freddie Fu | David Silver Professor and Chairman of the Department of Orthopaedic Surgery at the University of Pittsburgh School of Medicine | USA
What is Anterior Cruciate Ligament?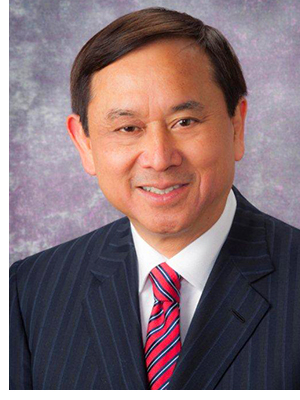 Professor Fu will be presenting this year's Michael Freeman Honorary Lecture at the 21st EFORT Annual Congress Vienna 2020 where he will explore his own achievements in the study of anterior cruciate ligament as a dynamic structure, rich in neurovascular supply and comprised of distinct bundles, which function synergistically to facilitate normal knee kinematics in concert with bony morphology. Characterized by individual uniqueness, the ACL is inherently subject to both anatomic and morphological variations as well as physiologic aging. He will share with the Orthopaedics and Traumatology community onsite, his broad knowledge on the anatomic reconstruction of the anterior cruciate ligament (ACL), clinical outcomes and sports-related problems. Professor Fu's research path genuinely mirrors the medical history of advances in ACL repair, both regarding the evolution of the medical techniques and the state-of-the-art concepts of this sports discipline.
Sports medicine, which focuses on improvement of athletic performances, diagnosis and treatment of injuries in professional and amateur athletes, as well as on the promotion of exercise and physical health in the general population, has become one of the most fast-growing health care fields in the last decades. EFORT is therefore pleased to welcome Professor Freddie H. Fu, one of the most prominent figures in sports medicine, physical therapy and mechanical engineering for sports, to hold the Michael Freeman Honorary Lecture on Friday 11 June 2020.
Professor Freddie Fu, the David Silver Professor and Chairman of the Department of Orthopaedic Surgery at the University of Pittsburgh School of Medicine,
Since 1982 Professor Fu has dedicated his time to reconstructing ACLs, but his unprecedented career started long before. For his very exceptional work, Dr. Fu graduated with the latin honors summa cum laude from Dartmouth College in 1974 and received his BMS in 1975 from Dartmouth Medical School. He earned his medical degree in 1977 from the University of Pittsburgh and completed his general surgery internship at Brown University. He returned to the University of Pittsburgh for an orthopaedic research fellowship and to complete his orthopaedic residency training. During that time, Dr. Fu was an AO International Fellow at the Hannover Trauma Center in Germany and an arthroscopic surgery fellow in East Lansing, Michigan.
As an ESSKA-AOSSM Sports Medicine Travelling Fellow in 1988, he visited over 30 sports medicine centers in Europe. In 1999, he was awarded an honorary Doctor of Science degree from Point Park University, an honorary Doctor of Public Service degree from Chatham University, and in 2010 was appointed Distinguished Service Professor by the University of Pittsburgh. Currently, Professor Fu also serves as the Head Team Physician for the University of Pittsburgh Athletic Department.
Doctor Fu has been honored with over 260 professional awards and honors, made over 1200 national and international presentations, co-authored 173 books chapters and has edited 30 major orthopaedic textbooks. He is the author of over 675 peer-reviewed articles with an impressive h-index of 128 for the nearly 57,000 citations for his work among the very top of all orthopaedic researchers. In 2019, the University of Pittsburgh was named the number one university in the world for ACL publications over a 40-year period and Dr. Fu, the most published author within the topic with over 378 publications on the ACL.
Dr. Fu is a member and has held offices in numerous academic organizations including the prestigious Herodicus Society and American Orthopaedic Association. He served as the President of the Pennsylvania Orthopaedic Society and as a board member of the Arthroscopy Association of North America. In 1996, he was awarded by the National Athletic Trainers' Association Presidential Challenge Award for significant contributions in athletic training. In 2008, he assumed the Presidency of the AOSSM for a one-year term and, in 2009 was named President of the International Society of Arthroscopy, Knee Surgery and Orthopaedic Sports Medicine (ISAKOS) for a two-year term. He has also held Board positions with the Orthopaedic Research and Education Foundation and the American Orthopaedic Society for Sports Medicine (AOSSM).
In recognition of his national and international achievements, Professor Fu has received Lifetime and Honorary Memberships from sveeral well-recognized societies such as The European Society of Sports Traumatology, Knee Surgery and Arthroscopy (ESSKA) and the International Society of Arthroscopy, Knee Surgery and Orthopaedic Sports Medicine (ISAKOS). He received the George D. Rovere Award on behalf of the American Orthopaedic Society for Sports Medicine and was inducted to their Hall of Fame in 2016. The Japanese Orthopaedic Society of Knee, Arthroscopy and Sports Medicine honorated him with the Masaki Watanabe Award. For Dr. Fu's pioneering work in orthopaedic sports medicine, the University of Pittsburgh renamed in 2018 its Sports Medicine Center as the UPMC Freddie Fu Sports Medicine Center.
Worldwide, orthopaedic surgeons perform around 800,000 ACL procedures each year. ACL injuries are often devastating for the patient as they might result in both acute and long-term clinical problems, with osteoarthritis (OA) and joint instability being persistent problems. Surgical reconstruction, which is very often required, became fast and efficient after minimally invasive techniques (one- and two-incision arthroscopically assisted ACL reconstruction) were developed, but remained inconsistent with respect to reproducing the native ACL anatomy. Indeed, these procedures use only one ligament for the replacement and the location where the ligament joins the femur and tibia remains approximate.
The piece of work summarizing the results of Dr. Fu's three decades of research in the ACL field* shaped the evolution of ACL reconstruction by shifting it from the traditional, transtibial arthroscopic technique to a more anatomic and individualized concept which replicates the knee's normal anatomy and restores its kinematics for a better long-term knee health and quality of life. This paper was awarded the Kappa Delta Elizabeth Winston Lanier Award in 2014. Currently, Dr. Fu's research team runs more than 100 studies assessing different aspects of the knee anatomic approach by analyzing the knee as an organ. Curiously, he also has several ongoing collaborations with vertebrate paleontologists and curators of the Carnegie Museum of Natural History and veterinarians at the Pittsburgh Zoo, allowing him to contribute to studies of the bony and soft-tissue anatomy of the knee in the context of evolution and biodiversity. Moreover, Freddie H. Fu has worked closely with Doctor Lovejoyan, the anthropologist who reconstructed the skeleton of "Lucy", the famed 3-millionyear-old hominid that walked upright to confirm that there are two ACL bundles in the knee, and unequivocally establishing this characteristic as an ancestral condition among a wide variety of primates and other mammals.
Undeniably, Professor Fu is everywhere from the zoo to the natural history museum, going through the operating room and his research laboratory, to prove that orthopaedics is multidisciplinary and that orthopaedic surgeons should rely on nature to shape surgery rather than operating to reshape nature.
Today, Professor Fu oversees one of the top and most ethnically and gender-diversified orthopaedic residency training programs in the United States, reason why he received the 2011 American Academy of Orthopaedic Surgeons (AAOS) Diversity Award. This particular detail on his curriculum vitae is perfectly aligned with our Vienna Congress Main Theme as EFORT has decided to promote its own diversity, as reflected by the federation structure itself, with its 41 National Member Societies.
Take the opportunity to learn why the use of the knee joint dictates how nature allows it to evolve from the foremost authority on ACL reconstruction in the world during the Michael Freeman plenary session scheduled for our upcoming Congress in Vienna. Attendance to this Honorary Lecture is included in the full-congress registration.