Nested Applications
LIS22 Past EFORT Congress Exhibitions
PAST EFORT CONGRESS EXHIBITIONS
EFORT understands that in order to assess the relevance of your company exhibiting during 23rd EFORT Congress Lisbon 2022 – it is often useful to see which companies have exhibited at previous EFORT congresses. For your convenience, therefore, please find the complete exhibitor listings for the following annual congresses via the links below:
For any enquiries relating to exhibition, satellites and sponsorship – please contact by using the official exhibitors and sponsorship contact us online form.
Note* : The global Covid-19 pandemic forced EFORT to take the difficult decision to postpone the 21st and 22nd EFORT Annual Congresses that was formerly planned to be held in Vienna, Austria in June 2020 and June-July 2021 respectively.
Exhibitors Database 2022
EXHIBITORS AND PARTNERS LISTING 2022
EFORT invites you to browse through the Exhibitors Database of the 23rd EFORT Annual Congress Lisbon 2022 which represents those exhibitors that have already committed to and confirmed their presence at the 2022 EFORT Congress to be held in Lisbon, Portugal from 22 to 24 June 2022.
EFORT Industry Database
---
G21 S.r.l
Via S. Pertini, 8
41039 San Possidonio (MO)
Italy
Phone: +39 0535 30312
About Us
G21 was set up in 2009 by expert entrepreneurs originating from the medical and pharmaceutical sector.
G21 is situated in proximity of the main cities and infrastructures in northern Italy, approximately 40 km from Modena and Bologna, in the Italian "Medical Valley" famous all over the world for its tradition, know-how and innovative spirit in the field of Medical Devices.
The company is strategically managed by a team of young people that stand out for their integrity, expertise and professionalism and who continuously bring the energy, enthusiasm and dynamism necessary to satisfy the requirements of an ever more demanding and developing market.
G21 has its own product portfolio (among which long-term implantable devices and Class III medical devices) of which it fully possesses the know-how as well as the design and production technology, the result of Research and Development programmes conducted in-house and in collaboration with major international research institutes and Universities.
High-quality raw materials, absolute process control, compliance with the most stringent international standards, continuous personnel training and painstaking care to details: this is the profile of G21's in-house production unit, which includes clean rooms certified up to Class ISO 5 for process execution in 100% sterile conditions.
Area of Business: Medical Devices
Category: Bone cement , vertebroplasty, kyphoplasty, custom modular spacer, and orthopaedics and neurosurgery
Number of Employees worldwide: 11-50 employees
Founded in: 2009
Products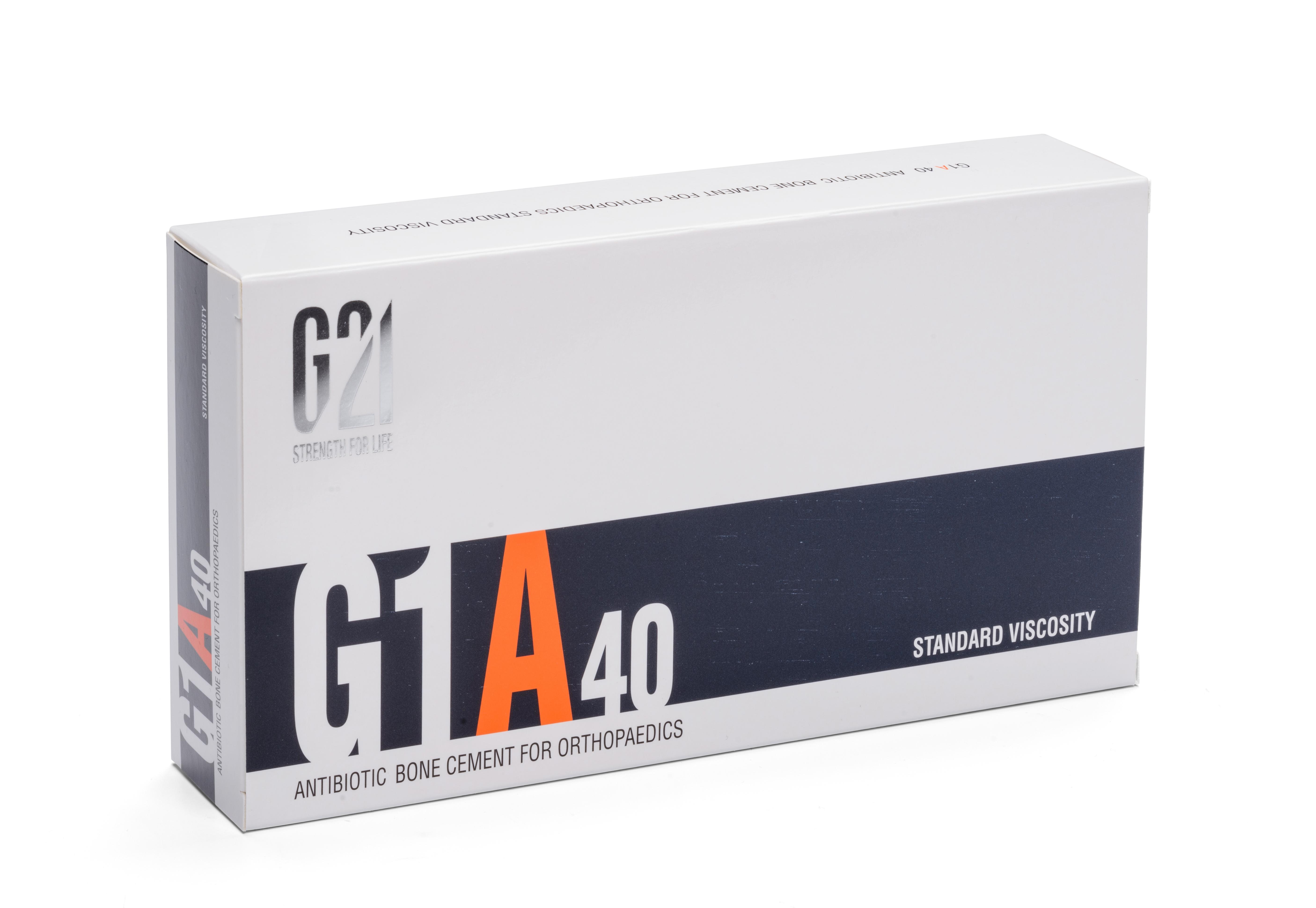 G1/G1A - G3/G3A Orthopaedic bone cements
Bone cement with and without Antibiotic
Category:
Othopaedic Bone Cement for Arthroplasty
SpaceFlex System
Disposable custom modular spacer mold