Nested Applications
HAM24 FLOOR PLANS TABS
The below floor plan is the exhibition floor plan for the 25th EFORT Annual Congress Hamburg 2024.
EFORT Congress Hamburg 2024 | Exhibition Floor Plan
PDF Document | 1 page | 310kb | High Resolution PDF | 1 page | 300 dpi | A3 | 4.5 Mb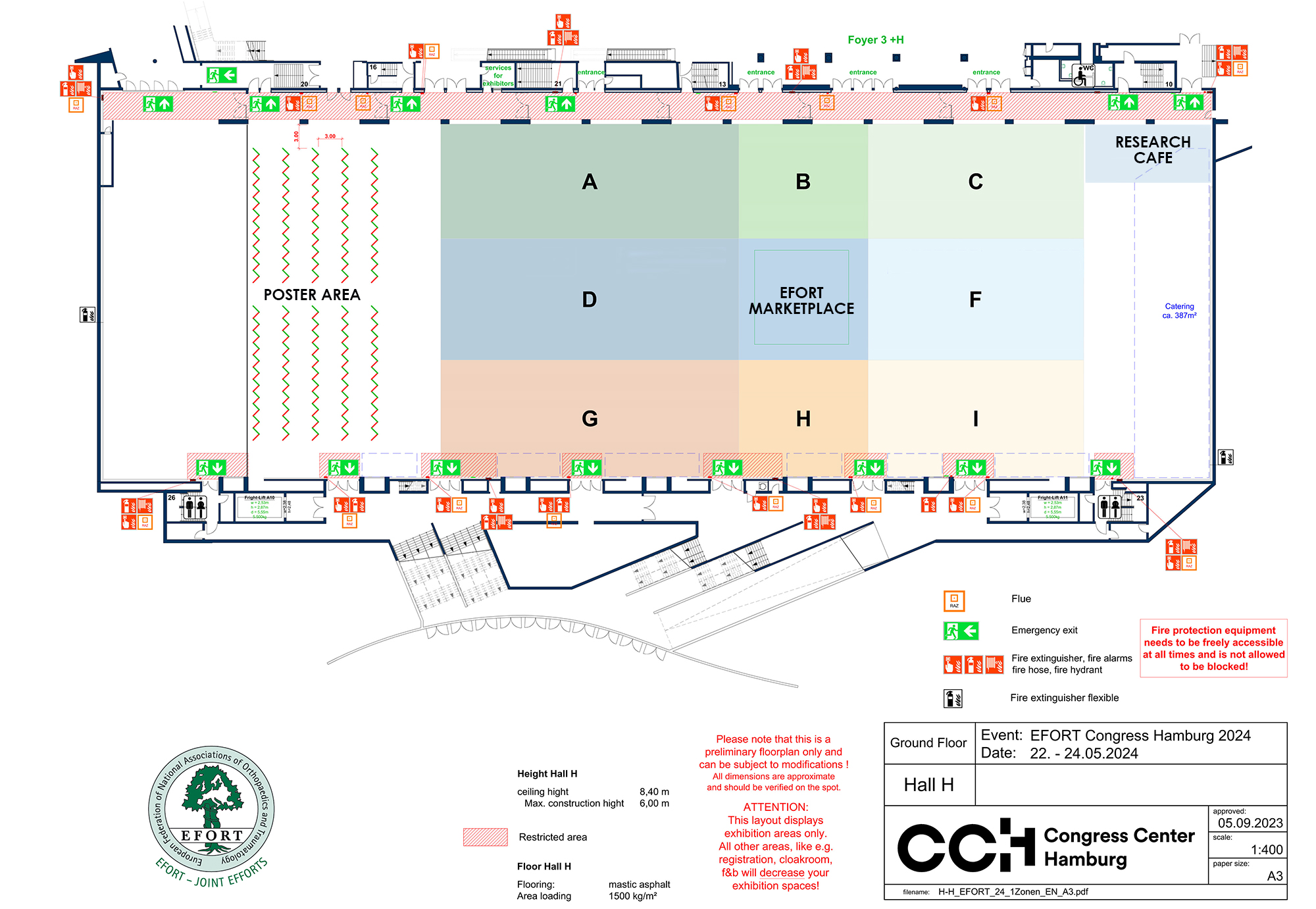 Having viewed the above Exhibition ZONES Floor Plan, please select 3 available ZONES / LOCATIONS, then please complete the Exhibition Space Web order from the EFORT WEBSHOP and submit to EFORT directly. EFORT will guarantee one of your 3 ZONES choices for your specific space and get back to you by 09 October 2023 latest.
Please note that the receipt of the completed web form(s) by EFORT means that you have read, accepted and agreed with the accompanying EFORT General Terms and Conditions of Sponsorship Agreement (GTC).
We thank you for your collaboration and please do not hesitate to contact us at [email protected] should you need any further information.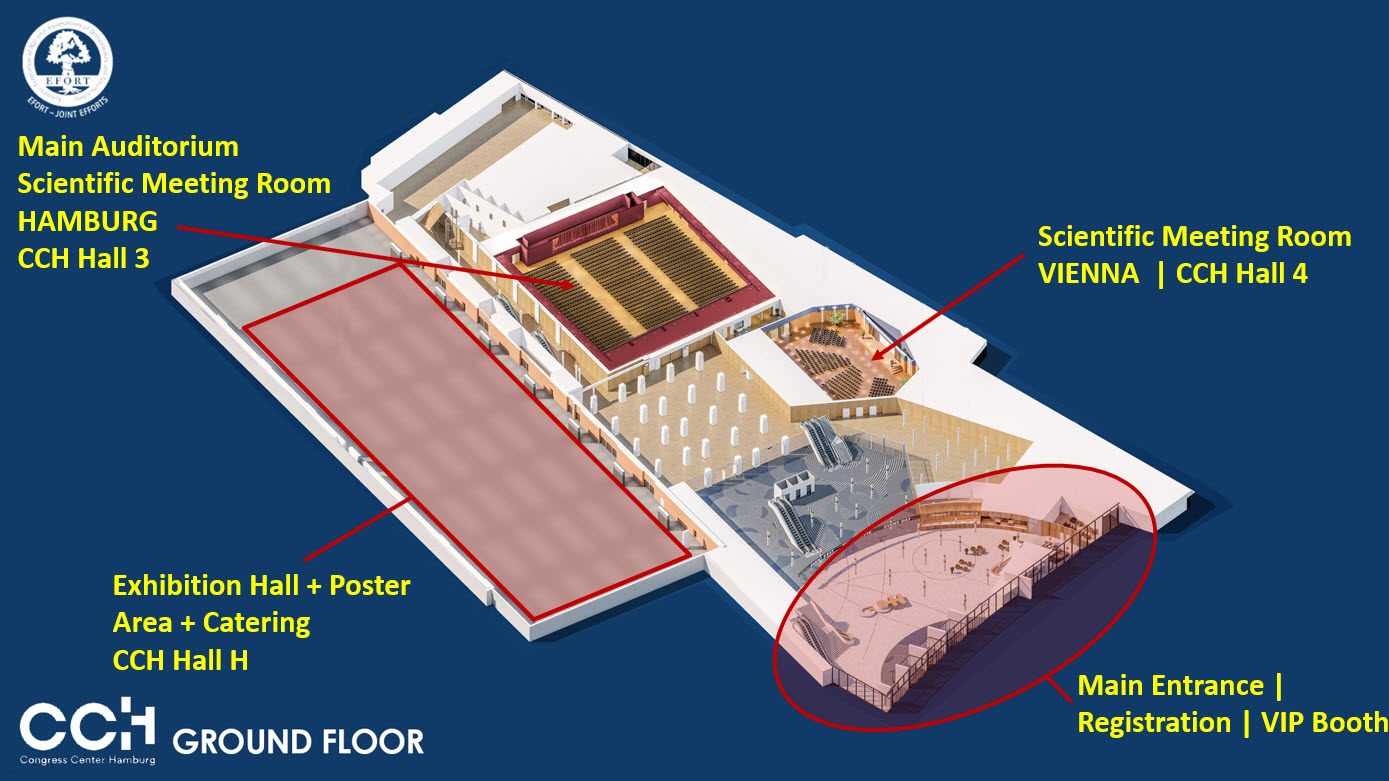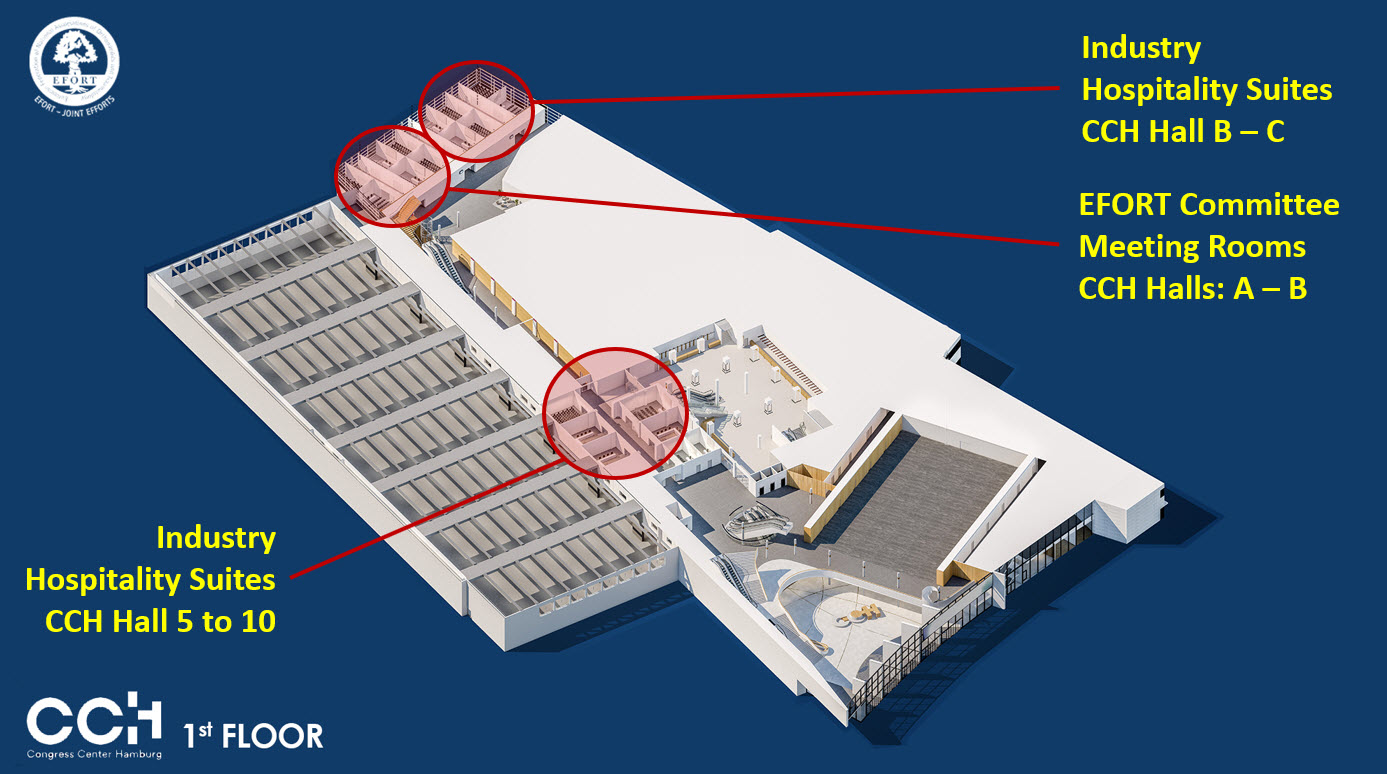 CCH - Congress Center Hamburg
Address: Congressplatz 1 | 20355 Hamburg | Germany
Website: https://www.cch.de/en/ | Phone: +49 40 3569 0 | GPS: Latitude - 53°33'42.8"N | Longitude - 9°59'10.2"E

HOW TO REACH THE CONGRESS CENTER
The CCH – Congress Center Hamburg is conveniently located in the city center. The Dammtor mainline train station and several other stations and stops of the public transportation system are within a distance of 100 to 500 meters.
The Dammtor mainline and commuter train station is right on its doorstep. From the subway stations Stephansplatz (Oper / CCH) and Gänsemarkt, a short walk through the center and Planten un Blomen park will take you to the CCH.
If you are traveling to the CCH – Congress Center Hamburg by car or motorcycle from outside Hamburg, we advise you to take the speedways, then simply follow the "Messe / CCH" signs.
If you are traveling by plane: The commuter train system ("S" train system) will take you to the CCH – Congress Center Hamburg quickly in an eco-friendly way. The commuter train departs directly from the airport and takes half an hour to arrive at the CCH. You may also take a taxi or use MOIA, the new ridesharing service for Hamburg. The trip by car takes only 20 minutes unless the traffic is congested.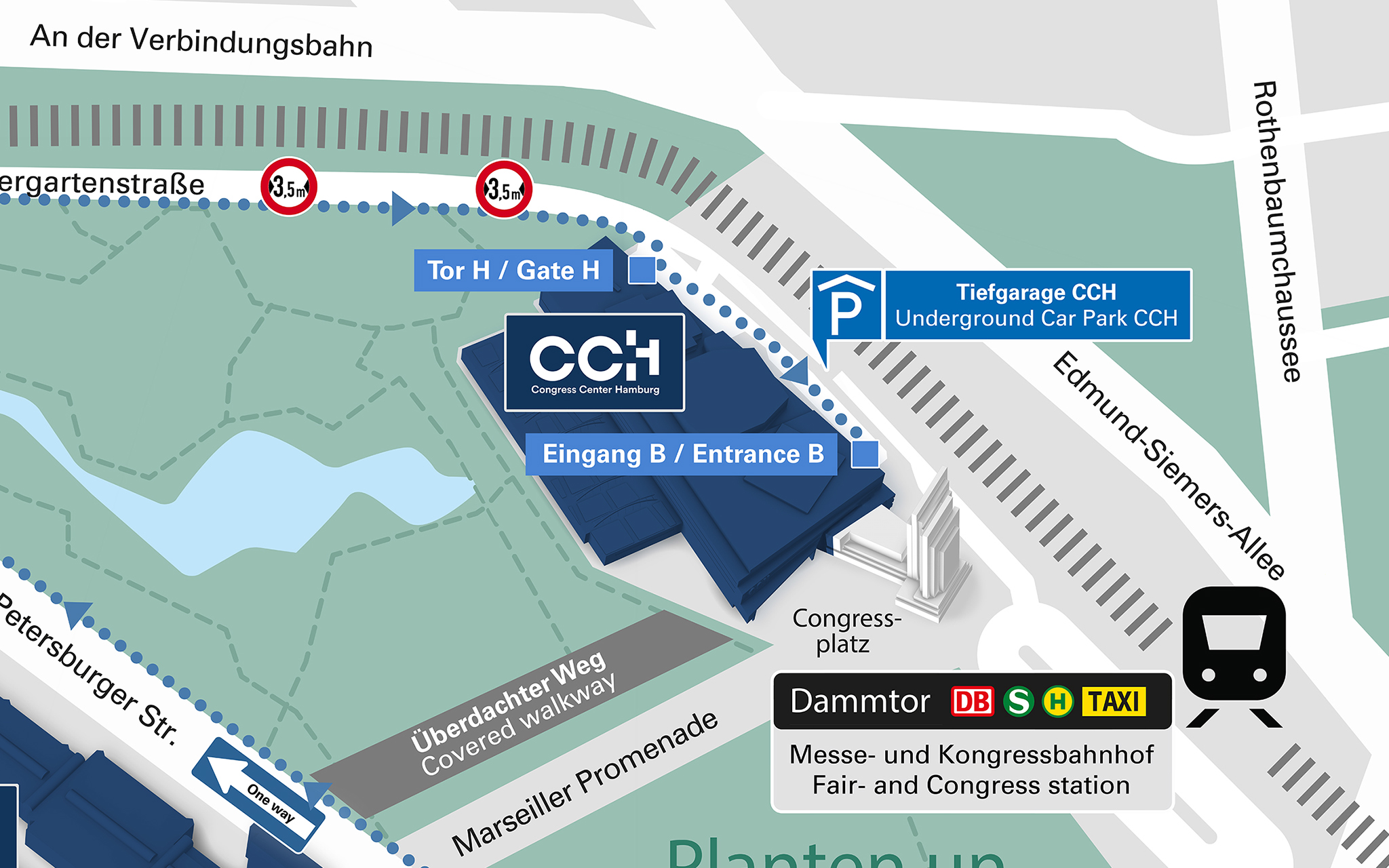 HAMBURG PUBLIC TRANSPORTATION
Germany has great cars, yes, but you don't need one to get around Hamburg. Apart from a lot of walkable urban space the city has a tight network of subway lines, trains and buses as well as several ferry services. Those who prefer individual transport can always rent a city bike and enjoy Hamburg's splendour on two wheels.
More information: https://www.hvv.de/en/lifts